Bright Young Things
Anna Godbersen
Cordelia Grey wants much more out of life than to be married young and stuck in her hometown of Union, Ohio with a whole bunch of babies and unfulfilled dreams. She wants to go to New York City and be somebody. So that plan is that she and her best friend, Letty Haubstadt, will hop on a train immediately following Cordelia's wedding, a ceremony that the two parties were being forced into, though one of them was a much more willing participant than the other. And, no doubt about it, the very next day, Letty and Cordelia step off that train onto the streets New York City.
It is 1929. Neither girl knows a soul in the big city, but both are looking for something very special. Letty wants to be a star . . . has always wanted to be a star. In her family of four other siblings, Letty was always the invisible one, despite her obvious talents for singing and performing. She's convinced that NYC can offer her all the opportunity she'll need in order to shine. Cordelia — under the cover of simply wanting a bigger and better life for herself — is desperately looking for her father, with whom she has never had any contact. Astrid Donal is from a wealthy Long Island family, NYC-born, raised, and cultured. She's currently dating Charlie Grey, the son of a big city mobster, and she takes an immediate and lasting liking to Cordelia when the daring young woman sneaks into Mr. Grey's birthday party at the guarded White Cove estate.
There is a different fate in store for each of these three young women, each finding her own way in a tricky big city world, and the author certainly has a knack for keeping the reader wanting to know what happens next to each of them. With a plethora of romance, adventure, and history, this series opener is recommended most to high school girls.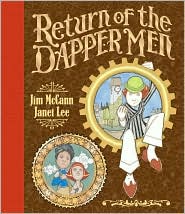 Return of the Dapper Men
Jim McCann, illustrated by Janet Lee
If the first couple of scenes of Return of the Dapper Men alone don't blow your mind, then you need to return immediately to your childhood and dig around to see if you can find where you lost your imagination, your thrill-seeking sense of adventure, and your appreciation for all things fun and glorious and entertaining . . . for this artistic masterpiece surely incorporates all of those things. Anorev is a land full of children and machines, until one day 314 dapper men come floating down from the sky and they bring with them something mysterious and a little bit terrifying: Time. And with time comes growth and discover, and it also brings choice and desire, none of which the children of Anorev have remembered in the timeless years gone by. The story is thought-provoking and the artwork is simply breathtaking.
Recommended to all ages. "To anyone who ever fell down a rabbit hole, walked to the sidewalk's end, danced a wild rumpus, or followed the second star to the right, may you find adventure, wonder, and a little something from which dreams are made in these pages."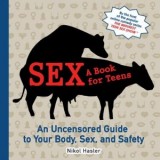 Sex : A book for teens : An uncensored guide to your body, sex, and safety
Nikol Hasler
Interested in sex? (Yeah, you are.) This book has pretty much everything you might have ever wanted to know, and a whole bunch of stuff you probably didn't want to know — but probably need to know. From the super-basic (and sometimes boring) information about the parts of the body and the reproductive system, through often uncomfortable topics of masturbation, sexual identification, birth control and protection from sexually transmitted infections, and right into the nitty-gritty of dating and relationships, this book offers a non-intimidating look at all aspects of sex and sexuality. Stressing the importance of protection and communication, The information provided is geared towards helping teens make educated decisions. This is not a book that "encourages" teens to have sex, rather it points out that teens should feel strongly that they can make decisions based on what is truly comfortable and right for them — and that what is comfortable and right could change depending on time, situation, or individual. There is an important balance of humor and seriousness in the way this material is presented that makes it extraordinarily approachable to teens (and, in my humble opinion, it's great for adults, too). Obviously, this book is about sex, so the effectiveness of the material depends on maturity level and willingness to really learn about the topic.
———————————————————————-
Katherine Vasilik, A/YA Librarian
J. F. Kennedy Library
Piscataway, NJ
telephone: 732-463-1633 x6
email: kvasilik@piscatawaylibrary.org or kate_thelibrarian@yahoo.com
blog: http://katethelibrarian.blogspot.com